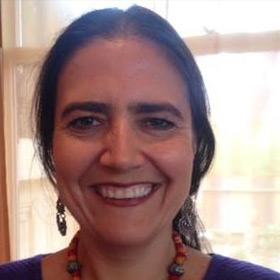 Mireya Alejo, M.A., MFT, (MFC#44997) (teacher) is a licensed psychotherapist and expressive arts therapist in private practice in San Francisco and Berkeley, California. She has been a certified Holotropic Breathwork practitioner since 1993.
Since 1988, Mireya has been committed to the process of spiritual growth, consciousness exploration and creative expression. She studied Social Anthropology at Universidad Metropilitana in Mexico City. Her degree thesis focused on traditional women healers (curanderas), and participated in a comparative study of traditional and alternative ways of healing. She earned her M.A. in Counseling Psychology with a focus in Expressive Arts Therapy at the California Institute of Integral Studies, San Francisco, California. She also studied Drama Therapy with Armand Volkas at the Living Arts Counseling Center.
Mireya has a strong interest in the integration of spiritual emergency processes, intergenerational and collective/historical trauma, diversity and gender issues, the immigrant experience, multicultural understanding, and the power of ritual, ceremony and creativity in community.
She is the co-creator with Rosy Aronson, Ph.D. of RIE-Release, Immerse & Emerge- A creative meditation practice. http://almaquecanta.com/