Therapy With Substance: Psycholytic psychotherapy in the twenty first century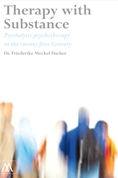 2015
---
Describes the practical use of psychedelic-assisted psychotherapy in the treatment of people who are resistant to normal psychotherapy.
Psychedelic drugs were routinely used in clinical research and psychotherapy until the 1960s. Since then they have been illegal except for a short period in the 1990s in Switzerland. During this window of opportunity, Dr. Fischer began using psychedelics to assist the progress of those of her patients who were "stuck." This book is a description of her use of psychedelic-assisted psychotherapy: the group work, the technical approach, the substances themselves and how to work with them. There is a special focus on the preparation of the mindset, the setting and the integration as these are the most important determinants of good outcomes. This is a unique account and the definitive guide for the new generation of psychedelic psychotherapists.
Friederike Meckel Fischer, MD has trained in individual, group, and family psychotherapy and in transpersonal psychotherapy with Stanislav Grof.