Inner Rhythm Meditations Vol II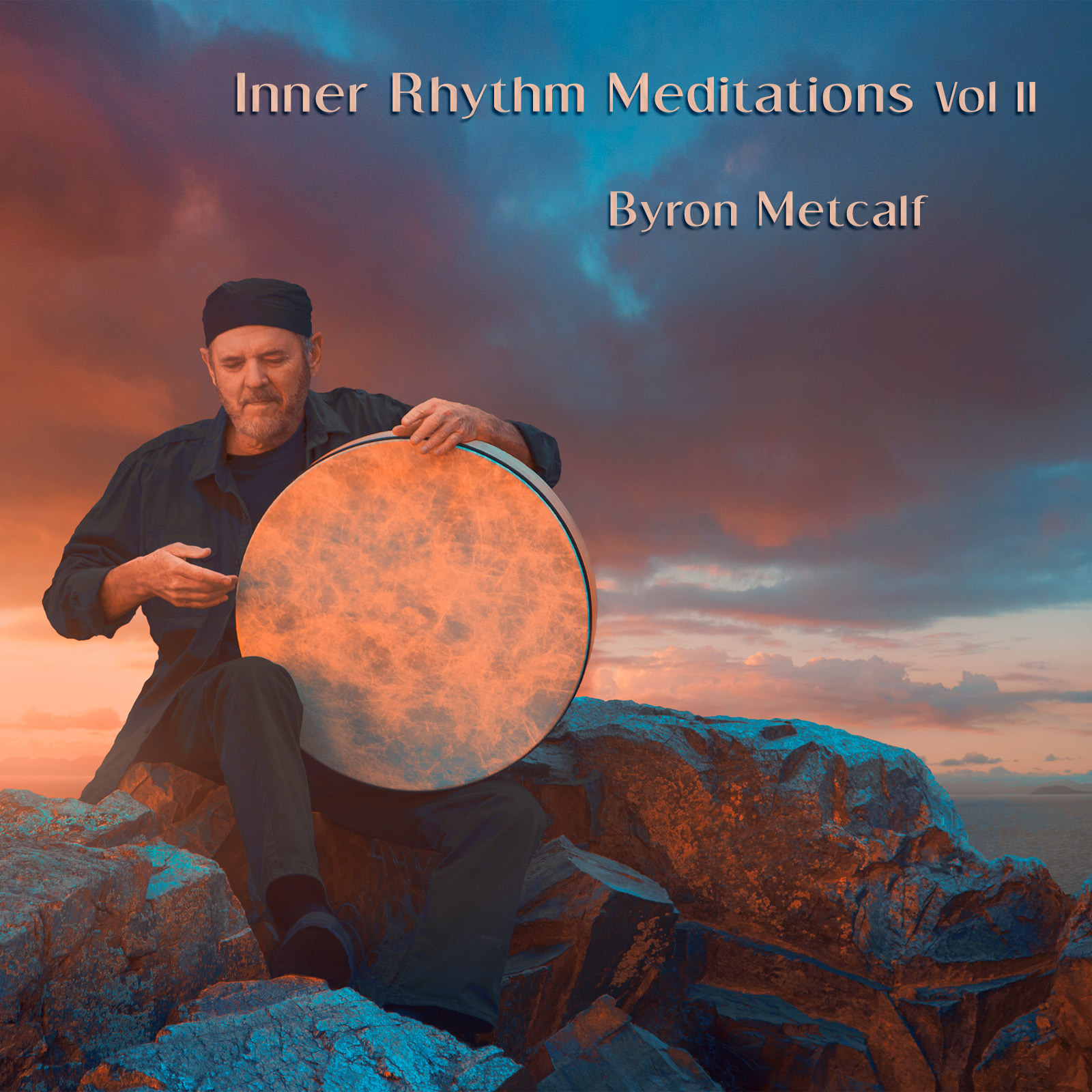 2018
---
"Byron Metcalf and friends have for decades created a body of work that is dynamic, moving, unique and perfect for people exploring expanded states of awareness. It is amazing that his latest work, Inner Rhythm Meditations Vol II, is the best yet and takes Byron's work into a whole new dimension."  – Tav Sparks, director of Grof Transpersonal Training.
Legendary percussionist Byron Metcalf's Inner Rhythm Meditations Vol II continues the immersive journey into hypnotic rhythms and haunting melodic textures which he began on the critically acclaimed, award-nominated 2016 album Inner Rhythm Meditations – Music for Expanded Awareness and Inspired Movement. Once again joined by noted sound sculptor Erik Wøllo & world-class flutist Peter Phippen, Metcalf explores a haunting landscape that gravitates between pulsing sensuality and drifting contemplation. Inner Rhythm Meditations Vol II is a deeper exploration of the dynamic interplay between the energetic and the subtle— sometimes vibrant, sometimes spacious. The seven tracks perfectly portray the exquisite dance that can occur between stillness and motion, each trait coalescing into the other at times, but also each venturing into their own unique sonic landscape.  A profoundly meditative listening experience, this album presents an opportunity to journey inward while also providing a backdrop for movement through space. In this way, Inner Rhythm Meditations Vol II is the best of both worlds in the genre of music for reflection and contemplation.
(pre-review)
Musical lightning strikes twice! Byron Metcalf (again joined by Norwegian ambient mastermind Erik Wøllo and acclaimed flutist Peter Phippen) returns to the land of shadowy melodic textures and subtle drums and percussion beats on Inner Rhythm Meditations Vol II (the follow-up to his acclaimed 2016 release of the same title, except it being Vol I instead). As on Vol I, each guest star co-composed (with Metcalf) some tracks (Wøllo on four, Phippen on three) The splitting up of the composing tasks lends a unique quality to the seven songs. No matter which of the two guest players' instruments are emphasized (for Wøllo, guitars and keyboards, for Phippen, flutes) Metcalf binds the two guests' "sonic separateness" together with his amazingly deft work on an assortment of drums, percussion, and studio mixing skills – almost as if he was a musical thread stitching together disparate fabrics into a beautifully colored quilt, rich with diverse elements yet cohesive of vision and artistry. As was present on Vol I, the musical textures intertwine with the rhythms in an ear-pleasing sensual display of serpentine fluidity. Primal but also ethereal, this is the rare sequel that easily matches the beauty and wonder of the original.
Bill Binkelman
Wind and Wire