Journey to Aktehi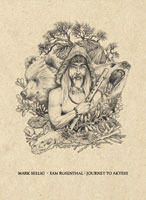 2017
---
Rosenthal: Songwriter and keyboardist from the band Black Tape For A Blue Girl
Seelig: Solo artist, transpersonal psychotherapist, and shamanic practitioner
On the border between electronic spacemusic and organic indigenous music, this release is an exhilarating and ecstatic exploration of the subjective land of Aktehi. The primary ingredients in the hallucinogenic soundscapes are Seelig's Bansuri flute and harmonic chanting. Rosenthal's subtle electronics, processing and production creates space for the mind-expanding travel akin to an altered state of consciousness.
Envisioned as a psychedelic trip with the flute and chants of the shamanic main character leading the listener on a journey of sound, Journey to Aktehi is a three-part meditation free of percussive rhythms. The sonic textures intricately expand and develop, supporting water, flute, breath, and (overtone) voice. Unlike similar works that maintain a steady-state throughout each track, these pieces take flight and explore; the artists incorporate new elements along the way to maintain a fresh, vibrant experience from beginning to end.
Journey to Aktehi serves as admission to another realm: a psychoactive musical experience with a transportive effect upon consciousness.